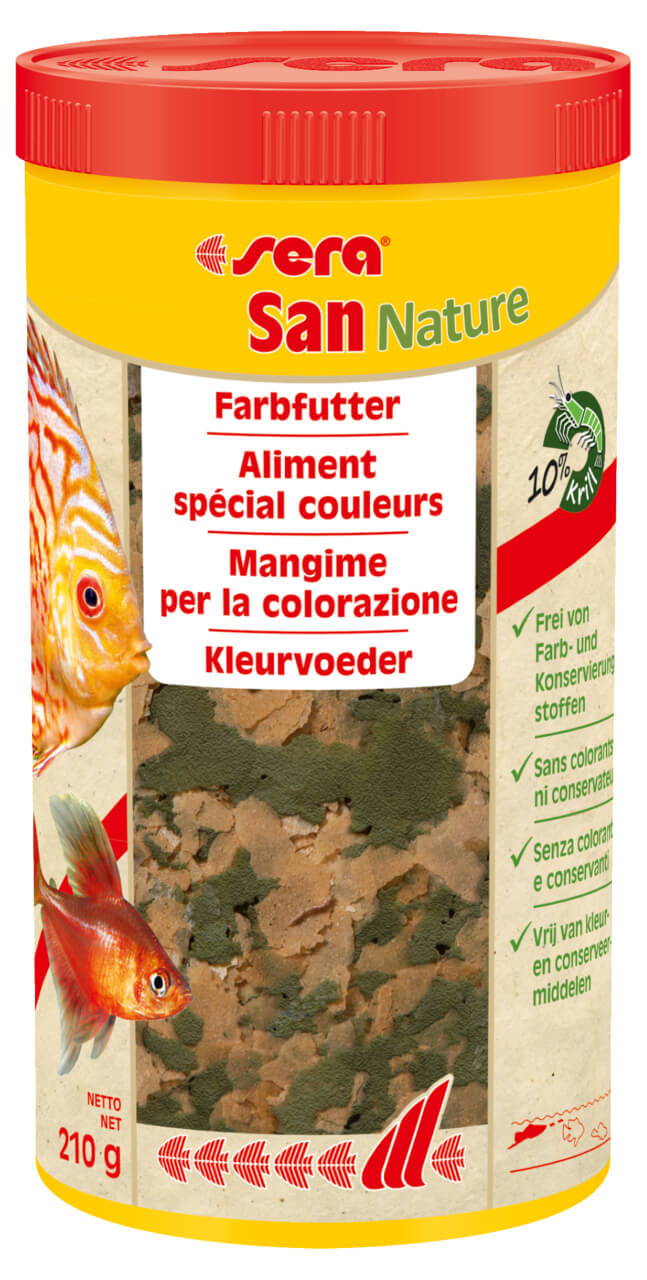 Available, delivery time 1-3 days
Product information "Sera San - Color Food"
Sera San - colour-enhancing flake food
This premium flake food from sera enables fast and healthy growth thanks to its balanced protein content. The complete recipe with more than 40 raw materials covers the daily nutritional requirements of typical community fish. The natural coloration of the fish is particularly well enhanced by the high spirulina content and natural carotenoids.
Immune protection for the fish
VIP concept - best natural protection for your fantastic fish
The fish's immune system can be supported, for example, by administering beta-glucans (yeast extracts) - this reduces the fish's susceptibility to disease, makes the fish live healthier and increases their life expectancy. Body colours can be enhanced by adding certain plants whose secondary ingredients also have a positive effect on the fish's overall metabolism. The well-known long-chain and unsaturated omega-3 and 6 fatty acids have a particularly positive effect on cell membranes of nerve cells, the heart and the circulatory system. They must be taken in as essential fatty acids with plant and animal food and are available in sera food.

We achieve better results with vitamins that act as a catalyst in the metabolism of the fish and that we mix specially for the application than with ready-made mixtures that are the basis for feed types of other manufacturers.

Instructions for use
Feed sparingly several times a day, only as much as the animals take in a short time.

Composition
Fish flour, wheat flour, brewer's yeast, Ca-caseinate, gammarus, whole egg powder, spirulina, cod liver oil, green-lipped mussel flour, garlic, herbs, alfalfa, nettle, seaweed, parsley, paprika, spinach, carrots. Dyed with EC additives.

Quality analysis
crude protein: 48.6%, crude fat: 8.3%, crude fibre: 2.9%, crude ash: 11.5%, moisture: 5.2%

Additives, vitamins and provitamins per kg
vitamin A: 37000 IU, vitamin B1: 40 mg, vitamin B2: 90 mg, vitamin C: 550 mg, vitamin D3: 2000 IU, vitamin E: 120 mg