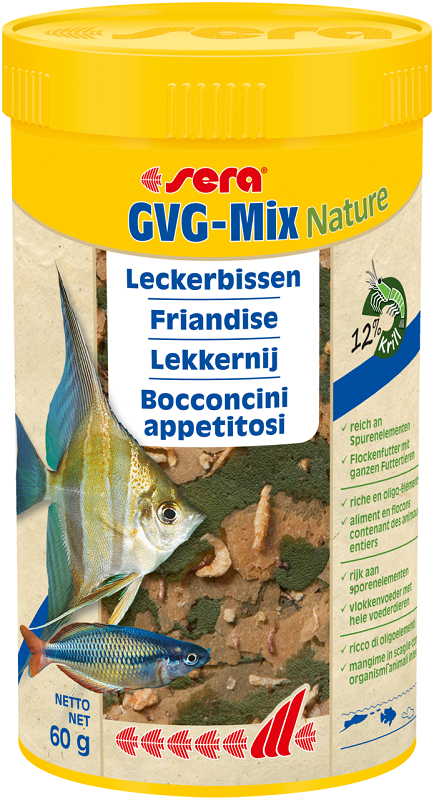 Product number:
AL-S32250
Available, delivery time 1-3 days
Product information "sera GVG - Mix Nature"
Sera GVG-Mix Nature
The flakes for freshwater ornamental fish with the extra treat.

This special flake contains a high amount of Gammarus fossarum and Spirulina algae.The addition of whole, gently frozen food organisms like krill, daphnia and gnat larvae cause this food to be very attractive to your fish. The balanced natural number of minerals and trace elements (per example iod and calcium) provide a natural protection against various deficency symptoms.
Immune protection for your fish
The immune system of fish can be supported by providing for example beta-glucan (yeast extract) - through this the susceptibility to various sicknesses is reduced, the fish lives longer and healthier. Colour intensity can be improved by giving certain plants whose secondary active parts are good for the metabolism of your fish.
Directions for use
Feed sparingly several times a day, only as much as the animals will consume in a short time.
Composition
Fish meal, wheat flour, brewer's yeast, Ca-caseinate, seaweed, gammarus, whole egg powder, spirulina, cod liver oil, krill, red mosquito larvae, daphnia, nettle, herbs, alfalfa, green-lipped mussel meal, parsley, paprika, spinach, carrots, garlic. Coloured with EC additives.
Quality analysis
Crude protein: 49.4%, crude fat: 8.0%, crude fibre: 1.8%, crude ash: 12.5%, moisture: 5.4%.
Additives, vitamins and provitamins per kg
Vit. A: 37000 IU, Vit. B1: 35 mg, Vit. B2: 90 mg, Vit. C: 550 mg, Vit. D3: 2000 IU, Vit. E: 120 mg