Welcome to the terraristics supplies shop of Zoo Roco from Switzerland
Our pet shop was founded in 1988 and since 1999 our terraristics supplies shop is also available 24 hours a day, 7 days a week, for you to browsing and shopping.
Thanks to our many years of experience and continuous training, we are able to stand out from many other terraristics shops and and provide you with expert advice at any time.
Whether directly in our pet store, by phone, e-mail or chat, please contact us at any time without obligation. We are happy to advise you.
Terrarium decoration
The terrarium decoration is not only meant to be an eye-catcher, but to meet the needs and requirements of the terrarium inhabitants.
Hiding places in the form of caves, for example, make it possible for many terrarium animals to retreat and hide. Especially night-time terrarium animals use caves to sleep well during the day.
In our terraristics supplies shop you will find a wide range of terrarium decoration. Whether terrarium caves, terrarium roots, terrarium mosses, terrarium stones, real terrarium plants or plastic plants for the terrarium, in our terrarium supplies shop you will find guaranteed the terrarium decoration, which meets the needs of your exotic roommates.
If you are unsure which terrarium decoration your future terrarium animal needs exactly, we will be happy to advise you of course.
We can also recommend our terraristics supplies shop in the field of terraristics literature.
Reptile food
Before choosing an exotic roommate, the question needs to be clarified, whether the landlord of the flat allows to hold of reptiles as well as it needs to be clarified which animal is suitable for one's own.
Because some terrarium animals need living insects and others again small rodents in the form of mice and rats. If you can not overcome this, the keeping of reptiles should be reconsidered.
Because your exotic roommate is dependent on you to feed him on a regular basis.
Many species of snakes, for example, feed on small rodents such as mice and rats. In our terraristics supplies you will find frozen mice and frozen rats in different sizes so that you can reach your snake the food in a suitable size.
On the menu of geckos and lizards, for example, are insects. In our terraristics supplies you will find a wide range of different insects. Whether flies, house crickets, field crickets, grasshoppers, cockroaches or even worms, we have the right food for your exotic roommate in the terraristics supplies shop.
Terraristics shop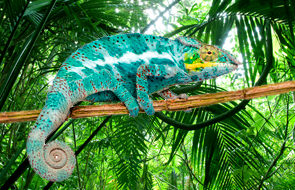 Would you like to find out more about our terraristics shop? Then we can also recommend our page "terraristics shop".
We would also like to recommend our blog, where we regularly publish interesting news, tips and tricks about our pets. Visiting regularly is worthwhile.
If you are also on Facebook, we would be happy to welcome you there too.
Now we wish you a lot of fun while browsing in our terraristics supplies shop.
If you have any questions or would like further information about the terraristics products, we will of course be happy to advise you with our specialist knowledge. Contact us without obligation by e-mail or telephone, we will be happy to advise you.
Your Zoo Roco team