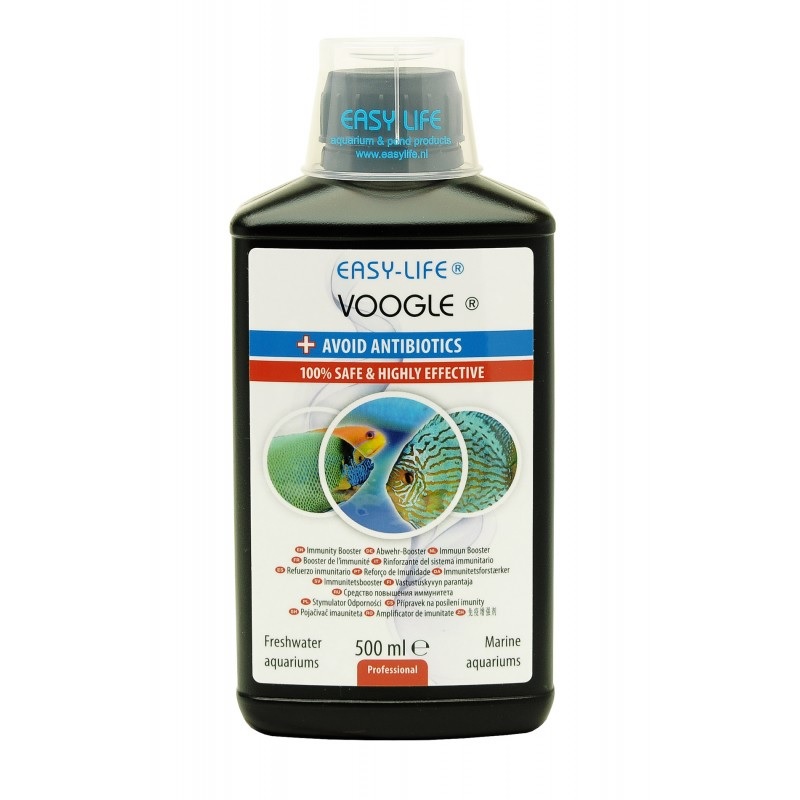 Product number:
PL-VOO0250
Available, delivery time 1-3 days
Product information "Easy Life Voogle disease prevention"
Voogle from Easy Life
Voogel by Easylife is a very original product that supports the health of fish and strengthens the immune system. Voogle reduces the use of antibiotics to a minimum. The immune system of the fish is stimulated with Voogle and thus the fish are able to protect themselves better against diseases.
Fish have a natural defence system against pathogens. Dirty water or just the transport cause enormous stress. As we all know, stress needs a lot of energy and attacks the immune system. Especially mucous membranes, gills and fins are then more susceptible to diseases such as white spot disease, fungi and other types of infections.
The weekly use of Voogle keeps your fish natural and optimally protected. Thanks to Voogel, the risk of various pathogens is greatly reduced.
Advantages
No release of toxic substances to fish, shrimps, crabs, snails, plants or the biofilter.
Does not influence important water parameters and does not cause resistance problems
consists mainly of plant extracts and supportive vitamins and minerals
after use, degradation takes place in a natural way, so that no water change is required
suitable for all freshwater and saltwater fishes
general healing effect increases the resistance and supports the natural healing process
Dosage:
for sick fish: over 5 days 10ml per 40 litres per day
Prevention of problems: 10 ml per 100 litres per week for a sustained strong resistance
strong overdosage is unproblematic
add who the fish are particularly active during the lighting time
Hint:
keep in a dark place
keep away from children and pets
Remove activated carbon, all appliances can remain switched on