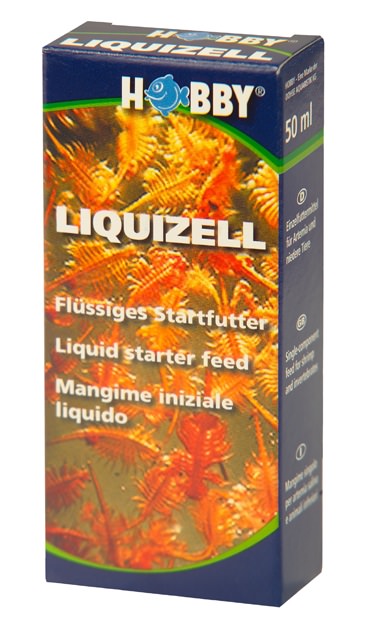 Product number:
HA-H30900
Available, delivery time 1-3 days
Product information "Liquizell 50 ml"
Liquizell (50 ml)
Liquid starter feed for larvae, for feeding as of 3 days old, and also for invertebrates.

Instructions for use:
During the first few days, artemias are not in a position to accept food particles which are larger than the photoplankton found in nature.
Because the individual particles agglomerate during the plankton is dried, Hobby´s special production process has to first brake them down again into a very fine particle.
This ensures the nauplias´ ability to feed themselves in their early development stages and those to a large extent reduces infant fatality. The HOBBY-LIQUIZELL starter food can be kept for an almost unlimited period of time.
Because one of the most common reasons for failure in the breeding of artemias is overfeeding and the "pollution" of the water associated with this, please observe the dosage recommendation.

Dosage:
From the third day feed the nauplias with HOBBY-LIQUIZELL.
Shake the Liquizell bottle well before administering the dosage. This enables the sediments to dissolve completely and thus produces a balanced liquid concentration. Feed in Liquizell drop by drop into your breeding container until the water turns light green. As an example, for a 5 l. artemia breeding container from the HOBBY-INCUBATOR SET, this corresponds to approx. 20 drops.
You should only add HOBBY- LIQUIZELL again when the cloudiness of the water has been completely cleared by the fish. From day 10 of their life it is now possible to feed the fish with HOBBY-MIKROZELL.