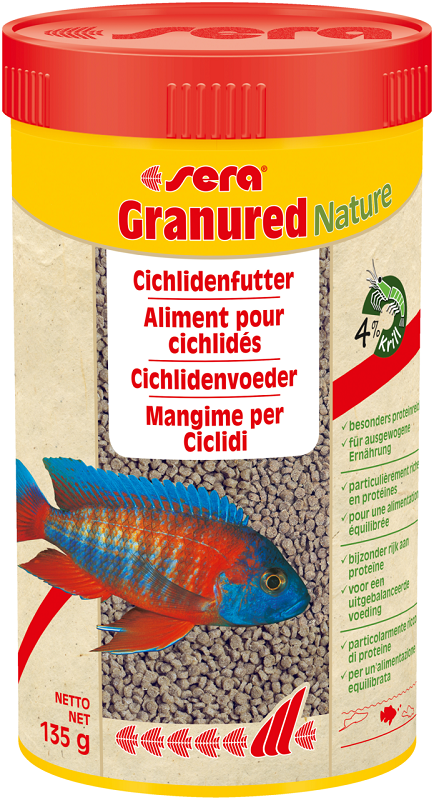 Available, delivery time 1-3 days
Product information "sera Granured nature"
Sera Granured
The colour enhancing granulate for cichlids

This granulates based fish food contains a high amount of high-quality proteins from aquatic organisms, because of that it is recommended for carnivorous cichlids. Granured in combination with granugreen is a good variety diet for omnivores. It should pose no problems to change the diet of newly imported fish to this granulate. The granules are stable and stay attractive even after sinking.
Usage hints
Feed multiple times a day, but only the amount your animals can eat in a short amount of time.
Ingredients

Fish meal, maize starch, wheat gluten, wheat flour, wheat germ, krill meal, gammarus meal, fish oil, brewer's yeast, spirulina, green-lipped mussel meal, garlic. Coloured with EC additives.

Quality analysis
Crude protein: 42.5%, crude fat: 10.3%, crude fibre: 2.8%, crude ash: 4.9%, moisture: 5.0%.
Additives, Vitamins and provitamins per 1 kg

Vit. A: 30000 IU, Vit. B1: 30 mg, Vit. B2: 90 mg, Vit. C: 550 mg, Vit. D3: 1500 IU, Vit. E: 60 mg