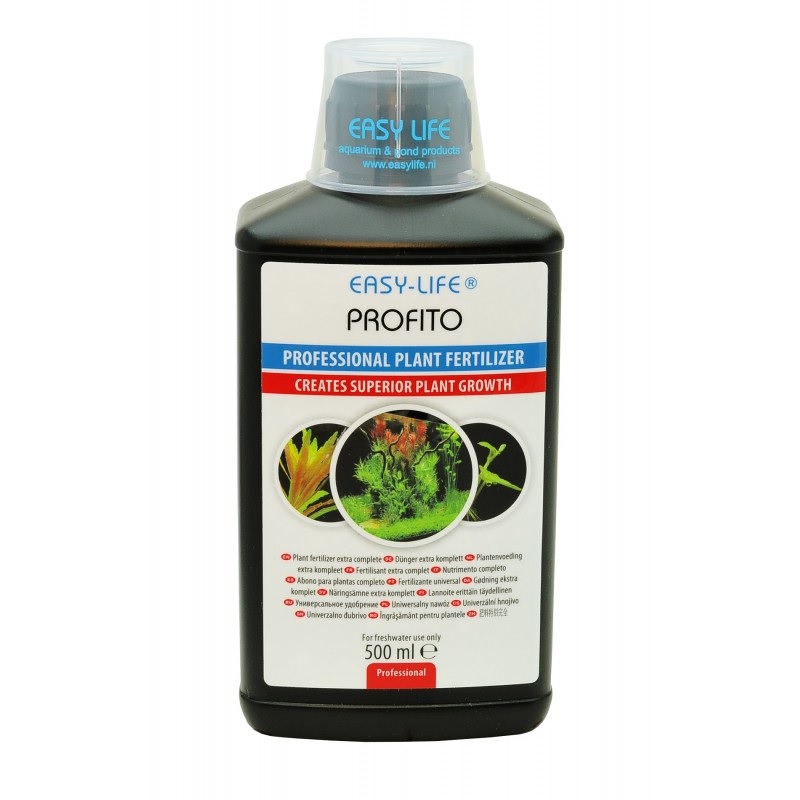 Product number:
PL-PR1001
Available in 1-3 days, acquisition time 14 days
Product information "Easy Life Profito - Plant fertilizer"
Profito plant fertilizer from Easy Life
Easy Life's plant fertilizer allows plants to grow stronger and faster, colouring them more intensely than ever before. The composition of this universal fertilizer is so strong that a healthy and luxuriant plant growth is permanently guaranteed.
Advantages of ProFito
a highly concentrated and complete universal fertilizer
all nutrients in one product
makes the extra addition of iron and potassium superfluous in most cases
ensures strong, healthy and lush plant growth
promotes the formation of cytokinins and thus stimulates cell division of larger and wider leaves, particularly intensive leaf coloring
relieves the aquarium water improves and maintains the biological balance in the aquarium
multi-stabilized
Nitrate and phosphate-free
very economical in use
promotes cell division
dosage
The dosage is very economical: 10 ml per 100 liters of aquarium water on a weekly basis.
You can also add 1/7 of the total dosage daily.
The color of the product is dark green - dark brown. Use one third of the dosage in the first weeks. This can then be adjusted later to achieve optimum plant growth (10 ml +/- 40 % per 100 liters per week). The best dosage can be determined by looking at the youngest leaves of a plant. If you are light green, the dosage should be increased. If the aquarium is infested with algae and/or no growth improvement is noticeable, the dosage can be reduced. By the way, the introduction of (several) fast-growing plants can help to counteract the effects of algae.
---
Tres bon prix. Entreprise serieuse et livraison propre et rapide. Je recommande n hesiter paa
Rien à dire ! Tous les produits
Rien à dire ! Tous les produits sont de bonne qualité