Product number:
DP-235925
Available in 1-3 days, acquisition time 7 days
Product information "Nano Clean Corner Filter 10 - 40 L"
Nano corner filter /

internal filter
For aquarium size 10 - 40 l
Efficient , quiet, compact
Large surface area for filtering bacteria
Safe for shrimps and crabs
The nano corner filter is a high-performance device with a pump delivery rate of 150 l/h. The pump runs so smoothly and quietly that it is practically inaudible. Its modest power consumption of just 2 W additionally helps to conserve natural resources.
The water flow rate is infinitely adjustable and the filter outlet can be rotated by 90° to enable the flow of water to be channelled in any desired direction.
The filter incorporates a nozzle tube with integrated cleaning slide and a mini-brush for simple cleaning of the nozzle openings.
The narrow intake openings and a very fine-pored preliminary bio foam ensure that the nano corner filter is also safe for young shrimps.
Cleaning the filter element is simplicity itself: Just grip the outflow pipe and pull the filter forward. The rear half of the filter housing remains in the aquarium.
Wash the filter element in a clean bucket with aquarium water, to avoid harming the important filtering bacteria.
---
Schnelle und preiswertes ...
Schnelle und preiswertes Material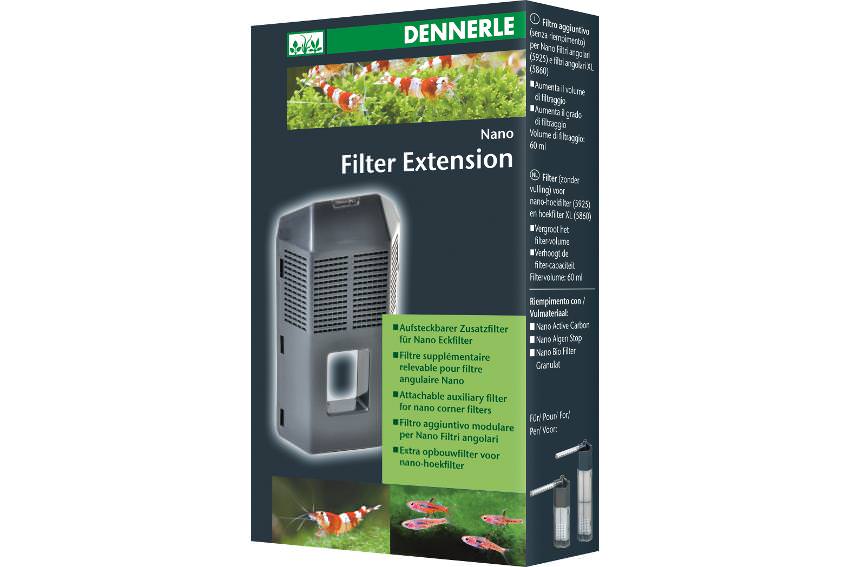 Nano Filter Extension for Nano Corner Filter
Nano Filter Extension Attachable additional filter for Nano corner filter and Nano XL corner filter. Especially recommended where fish are present. Increases filter capacity or can be used with phosphate binders or active carbon for short-term additional filtration. Simply fill, rinse (to remove possible residue caused by abrasion in transport) and clip on. For filling with Nano filter medium (Biofilter Granules/Algae Stop/Active Carbon).
Replacement filter for Nano corner filter
Replacement filter element for nano corner filter and nano XL Large surface area for filtering bacteria Excellent filtering performance For crystal-clear, healthy water With special 3-layer fleece for efficient filtration.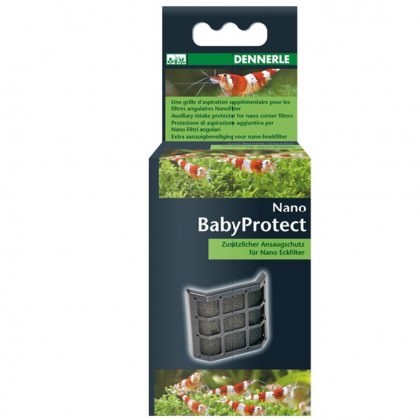 Nano BabyProtect
Nano BabyProtect - Protects newly hatched shrimp larvae This additional protection for baby shrimps can easily be clipped onto the corner filter.This prevents the youngsters from being sucked through the filter. With filter sponge, pore size approx. 0.5 mm