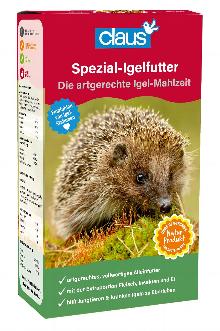 Available, delivery time 1-3 days
Product information "Claus hedgehog feed 500g"
Special hedgehog food from Claus
complete feed ready to feed

In nature, hedgehogs feed mainly on insects, molluscs, berries and fruit.
They therefore need a soft food which is adapted to their natural food, even when in human care.
Claus special hedgehog food meets this basic requirement of species-appropriate husbandry and therefore offers the animal lover
the possibility of feeding hedgehogs properly during the winter.
It is also ideal for supplementary feeding outdoors after the animals have been released.

Composition:
Various types of dried insects, raisins, nuts, berries, soya flakes, dried fruit, dried meat, oat flakes, baked goods (waffles, egg biscuits etc.), fodder lime, honey etc.

Preparation:
Special hedgehog food can be fed directly from the package. It does not acidify and can therefore exceptionally remain in the bowl for longer. If the food has dried out somewhat after a long period of storage
(honey crystallizes out), it is to be moistened portion-wise with water, fruit juice or the like easily.