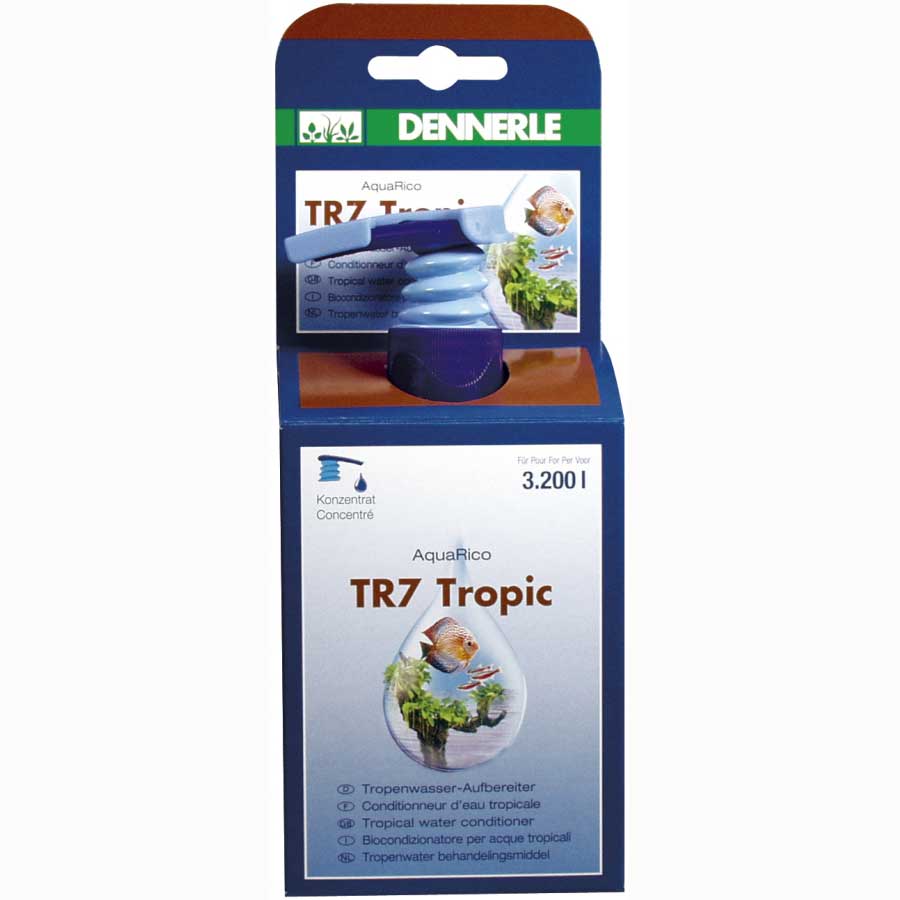 Product number:
DP-232727
Available in 1-3 days, acquisition time 10 days
Product information "AquaRico TR7 Tropic Tropical water conditioner"
AquaRico TR7 Tropic Tropical water conditioner (250ml)
Humic and tanning substances have numerous positive effects
Many of the most popular aquarium fish originate from tropical black water regions such as the Amazon or the Rio Negro. The most prominent characteristic of these waters is their high level of humic and tanning substances, which are released during the biodegradation of plant material.
Apart from colouring the water brown, these natural substances are also crucial to the health and well-being of numerous fish. They strengthen the mucous membranes, for example - a fish's most important barrier to pathogens. Humic substances taken in with food are conducive to healthy digestion.
TR7 Tropic for aquarium water similar to the natural tropical aquatic habitat

It contains a concentrated extract of humic peat, oak bark and alder cones. In this way, it adds valuable humic and tanning substances to the water, such as aquarium fish are accustomed to in their natural habitat. The additional extract of tropical almond leaves, which is particularly rich in vital substances, is a recognised recipe for healthy aquarium fish among Asian breeders.
In particular, TR7 facilitates the acclimatisation and care of all fish from black water regions, such as discus, neons, scalares, dwarf cichlids and long-whiskered catfish. The water conditions akin to the natural habitat reduce stress. Humic and tanning substances strengthen the mucous membrane, thereby reducing the risk of skin diseases. TR7 Tropic promotes spawning instincts and increases egg hatching rates. Healthy fish which feel at home in their aquarium environment display their natural colouring in all its glory.
Special advantage: The majority of the humic and tanning substances contained in TR7 Tropic have only a weak discolouring effect, or do not discolour the water at all. In contrast to many conventional peat products, the water does not take on an unsightly brown colour. Guaranteed free of phosphoric acid and hydrochloric acid.

Facilitates the acclimatisation and care of all fish from black water regions, such as discus, neons, scalares, dwarf cichlids and long-whiskered catfish

Strengthens spawning instincts, increases egg hatching rates

Promotes fishes' vitality and well-being and shows off their natural colouring in all its glory

With extract of valuable tropical almond leaves

For aquarium water similar to the natural tropical aquatic habitat